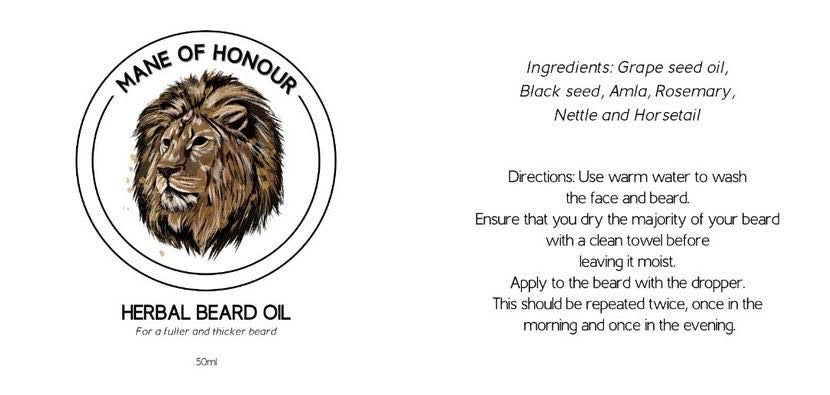 (BEST SELLER) Potent Herbal Beard Oil
---
Want a fuller, thicker and healthier beard? 

Lucky for you, our herbal beard oil is just what you need! It has been specifically formulated with many herbs which are clinically proven to help stimulate hair growth, fight hair loss and thinning hair. We infuse our oil for days in a temperature controller to make sure all the goodness of the herbs are fully extracted into the oil. Our herbal beard oil has a light scent. Our customers have described the scent as herbal and highly fresh. It is a fast-absorbing, lightweight and non-greasy herbal beard oil.

Ingredients: rosemary, nettle, horsetail, blackseed, amla, grape seed oil

Each ingredient has its own set advantages. With consistent application, our herbal beard oil promises to help:

• Beard/hair growth

• Beard/hair thinning

• Eliminate dandruff/beard-ruff

• Moisturise and balance the skin

• Leave hair/beard looking shiny

• Remove unwanted dead skin cells

• Soften and strengthen hair

Black Seed

We have included black seed (nigella seeds) in our oil infusion as it is best known for promoting hair growth. Antihistamines, which is found in nigella seeds, has traditionally been used to treat alopecia and hair loss.

Grape Seed Oil

Suffering from Acne?

You might be hesitant to test new items on your skin because you don't want to cause acne breakouts. But don't be concerned! We've chosen to infuse our herbs in grape seed oil because it is a light-weight, non-comedogenic oil. In fact, it is well-known for managing acne breakouts and lightening acne scars. Grape seed oils include Omega 6, which moisturises and encourages the growth of facial hair.

Rosemary

Rosemary soothes itchy, dry, flaky, and dandruff-affected scalps and beards! It promotes hair growth by stimulating and improving circulation. It also softly cleanses the hair and adds shine thanks to its antibacterial properties.

Horsetail and Nettle

Horsetail and nettle can both help to prevent hair loss and boost hair growth. Excess DHT (dihydrotestosterone), the most common hormone linked to hair loss, is blocked by nettle.

Horsetail is a plant-based herb that is high in silica. Silica strengthens hair and prevents thinning. It does this by delivering essential nutrients to your hair follicles. 

Dandruff, like beard-ruff, is never a good look. Horsetail and nettle, thankfully, assist to eliminate this.

Amla

Amla is a miracle cure for hair loss and hair that doesn't grow. It is not only used for hair growth but also helps in boosting beard growth. It contains calcium, which promotes a healthier beard. It also has vitamin C that helps in giving a natural shine to your beard thus making it smooth and easy to manage.

As you can see from the ingredients, a lot of research has been put in to making sure our herbal beard oil is all you need for a healthier, fuller and thicker beard.

Directions: Use warm water to wash the face and beard. Ensure that you dry most of your beard with a clean towel before leaving it moist. Apply to the beard with the dropper. For the most optimal results, this should be repeated twice, once in the morning and once in the evening. 

Customers who would like to use our herbal beard oil as a treatment oil, should leave it in their hair for 2-3 hours prior to showering.

Shelf life:

When stored properly, the shelf life is between 6 and 12 months. You'll be able to tell if it goes off based on the smell.

Storage:

Keep out of direct sunlight and store in a cool, dry location.

• ✅ 100% Organic

• ✅ 100% Natural

• ✅ Cruelty free

• ✅ No added preservatives

• ✅ No artificial odours or colours

• ✅ Handcrafted fresh

• ✅ Vegan

Size: 50ml

Please note: We advise our customers to test the product on a small section of their hair before applying it all over. If you feel any irritation or discomfort, discontinue to use.
Choose options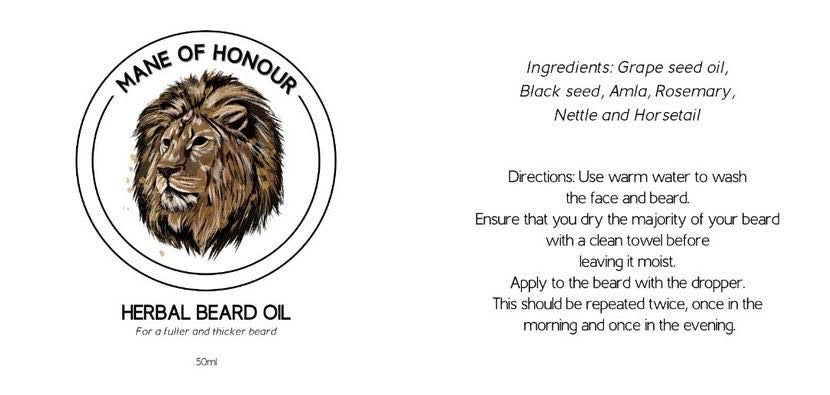 Good oil
My hair shines because of it
Godsent oil 🤲🏼
I've purchased many beard oils in the past few months, trying to find one that helps me grow hair in areas and also compliments my skin and none happened to make me happy apart from ManeOfHonor. It smells natural and you can see the process on TikTok which makes me feel safe using it ALSO it makes my skin glow, it's become part of my daily routine using it I couldn't recommend it more to people.
Highly recommend
Used the beard roller + the oil for 2 weeks now and I see a big difference my beard is growing faster and fuller. The product is 100% working it's up to you and your consistency !